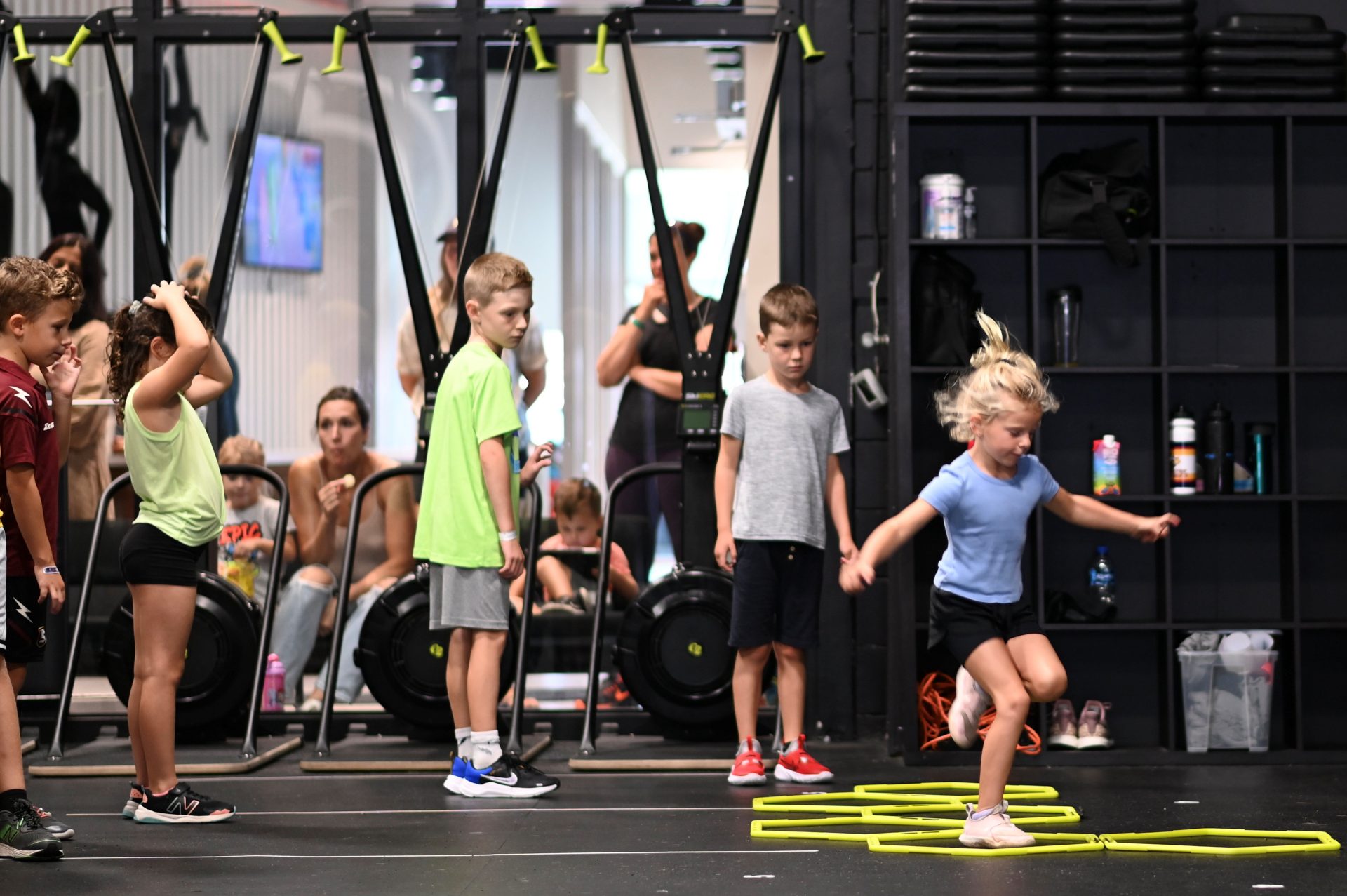 45-MINUTE WORKOUT
Our mission is to inspire kids with a lifelong love of fitness while also progressing and building young athletes of character.
We teach the foundations of exercise and build on those skills throughout our program. Develop your child's strength, stamina, teamwork and more by enrolling them in Grit Kids. We'll teach them the fundamentals of a variety of functional movement, to help them get fit and elevate their confidence to new heights.
GRIT KIDS: FOR YOUNG ATHLETES
Age group 6 to 10
These classes are geared toward developmental growth. Each class provides a safe, supportive environment to enable kids to do what they do naturally: play, socialize, and learn. We focus on functional movements that are fundamental to all things that kids need to do when they play: pull, push, run, throw, lift and jump. All of the movements are taught safely and effectively under the close supervision of our Trainer.
In the process, kids develop physically and mentally, increasing balance, bone density, and coordination. Grit Kids is a great start for creating a lifelong habit of exercise. The program can help children develop for sport, making them more well-rounded and is a great way to develop self-confidence, assertiveness, and a positive attitude toward challenges.
GRIT KIDS: TECHNIQUE
Age group 11 to 14
Our program is built to encourage kids to not only love being active, but to also emphasize the importance of discipline, teamwork and a positive attitude. Through workout challenges, fitness skill work, partner drills, and more, this class is designed to build a strong foundation of athletic skills by helping to develop coordination, agility, speed and strength.
Each class is a combination of strength and cardio training that is specifically designed for this age group. In a group setting, kids participate in fun and engaging workouts that deliver measurable results and prepare them to be well- rounded athletes. The workouts are designed to increase physical competence in Cardiovascular and Respiratory Endurance, Stamina, Strength, Flexibility, Power, Speed, Coordination, Agility and Balance.
Is Grit Kids right for my child?
We say, YES!, but we want you to be sure and satisfied, so please drop in during a scheduled class and let your child give it a try for free or contact us for more information.
Schedule
GRIT KIDS ATHLETIC:
Age group: 6 to 10
Groups by Request
Contact us
GRIT KIDS TECHNIQUE:
Age group: 11 to 14
Groups by Request
Contact us